🏁🏁 HOT NEW RELEASE 🏁🏁
Revolution by Dr. Rebecca Sharp is LIVE! Don't miss this hot and angsty enemies-to-lovers romance written in K. Bromberg's Driven World.
#One-click today!
BOOK BLURB
No tits in the pits!
You can grab my pole, Kacey!
If Kacey Snyder was a lady, she'd be at home!
I'd heard it all before—all the ways I didn't belong—and it never stopped me. Until a well-deserved punch to a fellow driver banned me from NASCAR for the season.
Now, my only chance to drive is at the Indianapolis 500—the most prestigious race in the country.
And I'm the only woman competing.
Unfortunately, my contract didn't mention the suffocating publicity nor the abrasive mechanic building the car.
Garret Gallagher guards many secrets behind his callous attitude—how much he dislikes me isn't one of them.
That's fine with me. I can't stand him either.
Especially the way his Irish brogue makes me melt
over words that chill me to the bone.
In my world, nothing matters except power and speed and proving myself.
Until him.
Until us.
As obstacles unfold and secrets unravel,
suddenly I'm fighting for more than the finish line.
They say revolutions begin with a single spark.
One driver on the track. One desire that can't be stopped.
But in a revolution driven by love,
What if he was the only prize worth winning?
Dr. Rebecca Sharp's
Revolution
is a hot and angsty enemies-to-lovers romance written in K. Bromberg's Driven World.
PURCHASE LINKS
Amazon:
https://amzn.to/2ADyc0e
Goodreads: https://bit.ly/Revolution_GR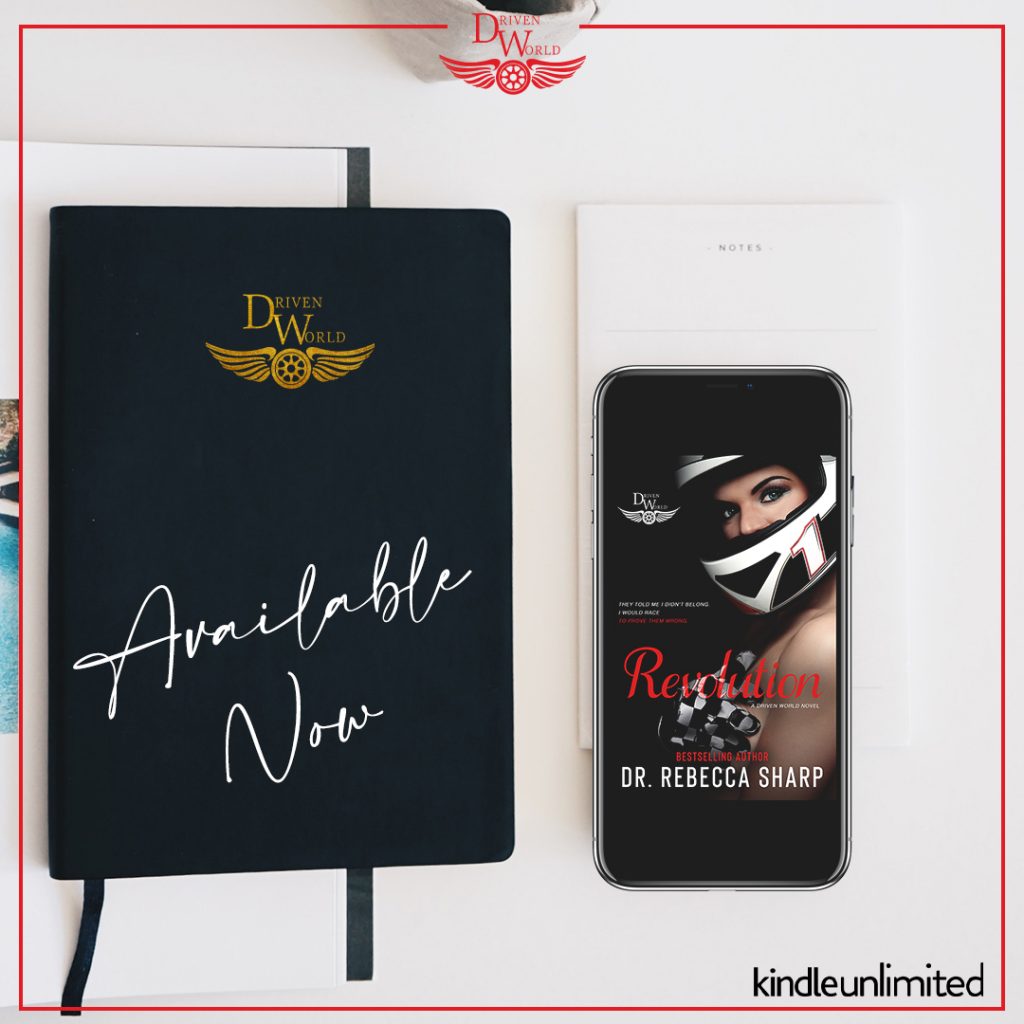 TEASERS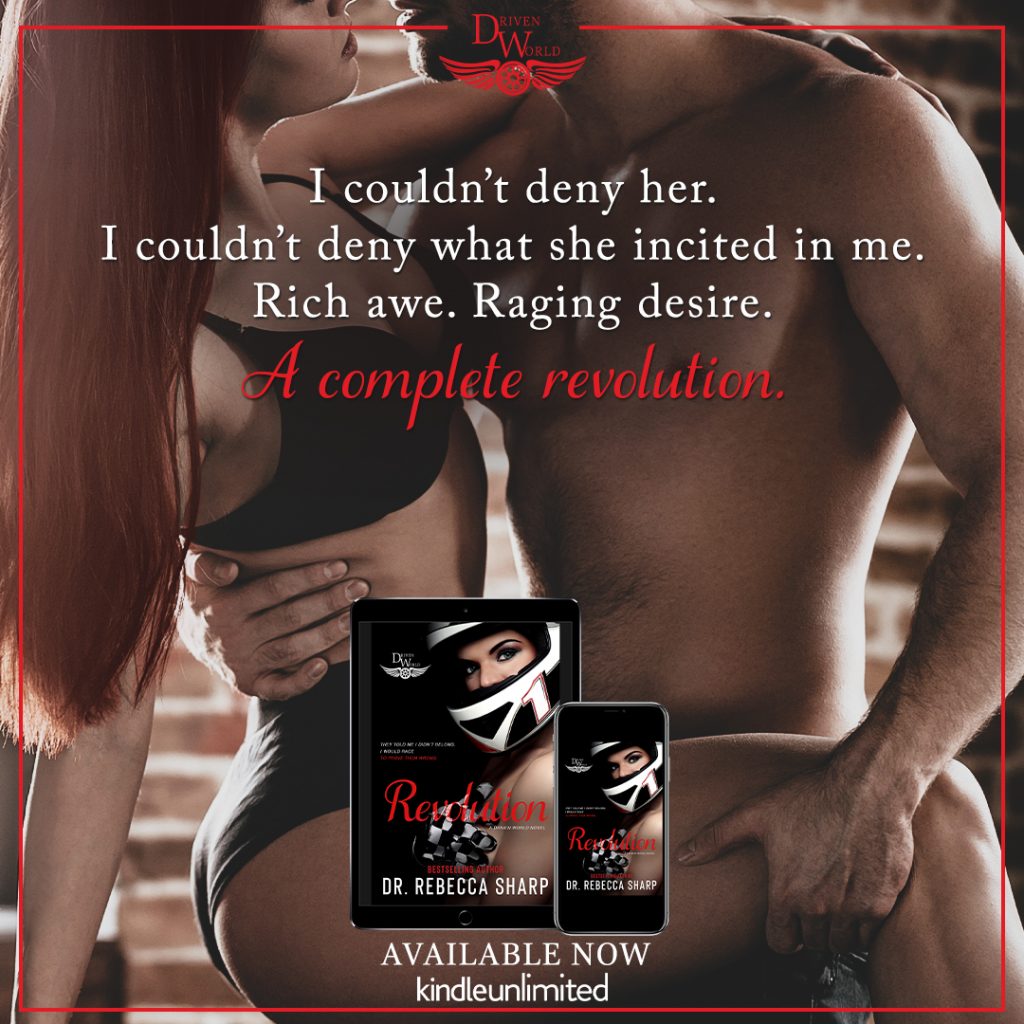 GIVEAWAY
To celebrate the release of Revolution, Rebecca Sharp is giving away a $25 Amazon gift card! Head to her Facebook page to enter:
https://www.facebook.com/drrebeccasharp/
ABOUT THE AUTHOR
Dr. Rebecca Sharp, while using a pen name, is actually a doctor living in Pennsylvania with her husband – the love of her life.
She enjoys working in her practice with her father as well as letting her creativity run free as an author. Growing up she's always loved a good love story and finally decided to give writing one of her own a go.
After graduating with her doctoral degree, she now enjoys spending that thing called free time traveling with her husband, cooking, and knitting.
AUTHOR LINKS
Facebook:
www.facebook.com/drrebeccasharp
Reader Group:
http://bit.ly/BecomeASexySharpie
Instagram:
www.instagram.com/drrebeccasharp
Twitter:
www.twitter.com/drrebeccasharp
Mailing List:
http://bit.ly/StaySharpSignUp
Goodreads:
https://www.goodreads.com/drrebeccasharp
Amazon:
https://goo.gl/bxuLPd
BookBub:
https://www.bookbub.com/authors/rebecca-sharp
5 STAR Review
This story was everything I was hoping for and have come to love from Dr. Rebecca Sharp. This author has an amazing talent for telling a story that keeps me wanting more. Kasey and Garrett's story did just that. I feel like behind every Dr. Sharp story is a larger underlying message. For me, I think it was pretty obvious in this book, but I loved the message all the same. That message being no matter who you are never allow anyone to make you look weak or less than what you are. Kasey holds her head high in a situation that she could have flipped to make someone else look less. Instead, she stood her ground, took her punishment, and moved forward. She learned several lessons throughout this book, which I loved. But I feel like she discovered who she was throughout this story, which I loved even more. Garrett if fighting demons. Even when he doesn't want Kasey's help, she helps him. They don't want to depend on each other, but the truth is, they would each fail without the other, something neither of them can afford at this point.
I loved every second of this amazing story. I loved getting lost in Dr. Sharp's Driven World. This book is everything I could have hoped for and more.